random calamity ..
Intense..

CANDYLAND!
Thursday, November 20, 2008
Tagged by ZLynn
Rules:
1. The rules of the game get posted at the beginning.
2. Each player answers the questions about themselves.
3. At the end of the post the player then tags 5 people and posts their names, then goes to their blogs and leaves a comment, letting them know they got tagged and to ask them to play and read your blog.
Starting time: 2.51pm
Name: Kathleen
Sisters: Nada.
Brothers: Zilch.
Shoe size: Ranging from 4-7
Height: 5'1"
where do you live: That country between Thailand and Singapore which people tend to overlook.
Favourite drinks: Iced lemon tea, milo ais, slurpee. xD
Have you ever -
Been on a plane?: Every year.
Swam in the ocean: Yes.
Fallen asleep at school: Nearly every day.
Broken someone's heart: Probably.
Fell off your chair: I... don't know.
Sat by the phone all night waiting for someone to call: Ehh not really.
Saved e-mails: If just not deleting them counts then yeah.
What is your room like: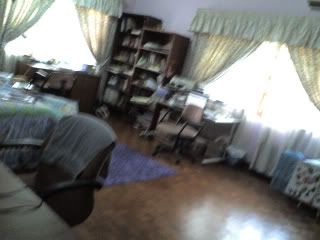 There you go.
the last thing you ate: Rice and egg.
Ever had chicken pox: I think so.
Sore throat: Uh, duh?
Stitches: 14. 5 on my chin, 9 in my ear.
Broken nose: No.
Do you believe in love at first sight: Idk.
Like picnics: Only if I'm there to participate, not prepare or clean up. XD
Who was/were the last person/people you danced with: Uhhh. Myself?
Last made you smile: Pictures of Kyle Peek?
You last yelled at: The computer.
Today did you -
Talk to someone you like: My grandmother? (:
Kiss anyone: No.
Get sick: Not today.
Talk to an ex: Ehh.. No. 
Miss someone: Yes.
Eat: Yeah.
Best feeling in the world: Uninterrupted sleep.
Do you sleep with stuffed animals: Yesh. XD
What's under your bed: A mattress.
Who do you really hate: I don't know.
What time is it now? : 3.02pm.
Random -
Is there a person who is on your mind now: People. BoUH; Band of Ultimate Hotass, aka David Cook's band.
Do you have any siblings: *facepalm* *points to the top of post*
Do you want children: Idk.
Do you smile often: Yes.  
Do you like your hand-writing: Sometimes, when it decides to cooperate.
Are your toe nails painted: Yesh.
Whose bed other than yours would you rather sleep in: My parents'
What color shirt are you wearing now: White.
What were you doing at 7:00 p.m. yesterday: Was online.
I can't wait till: Fridayyyyy. David Cook's anticipated self-titled album hitting stores, yo. *shameless DC promotion*
Are you a friendly person: I think so?
Do you have any pets: Yes. Two insane dogs.
Where is the person you have feelings for right now?: Ehh. Probably at home.
Did the last person you held hands with mean anything to you now?: Yes. She's my adorrrrable 4 year old Godsister. (:
Do you sleep with the TV on?: Ehh if I fall asleep in front of the TV then yes lorr.
What are you doing right now?: This tagg.
Have you ever crawled through a window?: Lol, yeah just to see if I could fit.
Can you handle the truth?: It depends.
Are you too forgiving?: I don't know.
Are you closer to your mother or father?: I guess its equal.
Who was the last person you cried in front of?: If the computer doesn't count then my mummyy.
How many people can you say you've really loved?: That depends. In what way, now?
Do you eat healthy?: Pfft. As if.
Do you still have pictures of you & your ex?: Yep.
Have you ever cried because of something someone said to you?: YES MY DADDY WAS MEEEAAAN. ;_;
If you're having a bad day, who are you most likely to go to?: LKK.
Are you loud or quiet most of the time?: It depends who I'm with and where I am.
Are you confident?: It depends.
5 things I was doing 10 years ago:
1. Getting my hair cut short.
2. Not caring about addmaths.
3. Wondering why that boy in kindergarten suddenly stopped talking to me.
4. Decided it was cause I got my hair cut.
5. Kindergarten concert.
5 things on my to-do list today:
1. Laze around.
2. Get the album covers for my iTunes.
3. Read fanfic.
4. Blog
5. Fangirl over teh BoUH.
5 snacks I enjoy:
1. Chachos.
2. Ribena pastiles. Lol. Kate can attest to that.
3. Does Ramli burger count as a snack?
4. Pringles
5. Chewy bars. 
5 things I would do if I were a billionaire:
1. Get a Nintendo DS
2. Fly to the USofA.
3. Meet David Cook and the BoUH.
4. Pick Dom up along the way.
5. And probably HSC.
5 of my bad habits:
1. Not finishing my food.
2. Being online the whole day.
3. Procrastinating.
4. Pulling my hair.
5. Being lazy.
5 places I have lived in:
1. Jalan 17/43
2. Jalan 17/20
And seriously that's it. Didn't even move that far. *facepalm*

5 jobs I've had:Absolutely none.
5 people I tag:
NUNIS. 
Alicia.
Amanda.
Pinkie.
Bernice.
`kathleenxx ♥
2:51 PM